Ashrams & Maths
Traditionally, an ashram (Sanskrit/Hindi: आश्रम) is a spiritual hermitage. Additionally, today the term ashram often denotes a locus of Indian cultural activity such as yoga,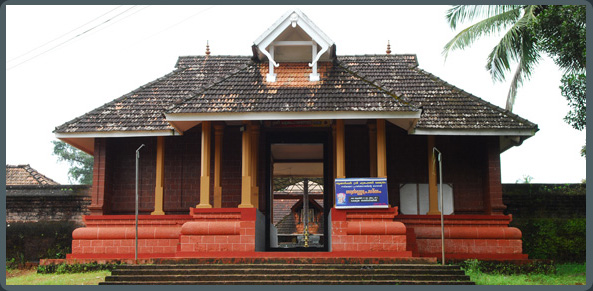 music study or religious instruction, the moral equivalent of a studio or dojo.

An ashram would typically, but not always, be located far from human habitation, in forests or mountainous regions, amidst refreshing natural surroundings conducive to spiritual instruction and meditation. The residents of an ashram regularly performed spiritual and physical exercises, such as the various forms of Yoga. Other sacrifices and penances, such as Yajnas were also performed. Many ashrams also served as Gurukuls or residential schools for children.

Ashrams have been a powerful symbol throughout Hindu history and theology. Most Hindu kings, until the medieval ages, are known to have had a sage who would advise the royal family in spiritual matters, or in times of crisis, who was called the rajguru, which literally translates to royal teacher. A world-weary emperor going to this guru's ashram, and finding solace and tranquility, is a recurring motif in many folktales and legends of ancient India.

Sometimes, the goal of a pilgrimage to the ashram was not tranquility, but instruction in some art, especially warfare. In the Hindu epic Ramayana, the protagonist princes of ancient Ayodhya, Rama and Lakshmana, go to the Rishi Vishvamitra's ashram to protect his Yajnas from being defiled by emissary-demons of Ravana. After they prove their mettle, the princes receive martial instruction from the sage, especially in the use of Divine weapons, called Divyastras (Sanskrit Divya: Divine + Astra: missile weapon; the Sanskrit word 'astra' means missile weapon, such as an arrow, as opposed to 'shastra', which means a hand-to-hand weapon, such as a mace.) In the Mahabharata, Lord Krishna, in his youth, goes to the ashram of Sage Sandipani, to gain knowledge of both intellectual and spiritual matters.
Main Sampradayas of the Mats & Ashrams
| | | | | | | |
| --- | --- | --- | --- | --- | --- | --- |
| Sl No | Sampradayas | No of Sub Sumbradayas | Group | Founder | Deities Worshipped | Nature |
| 1 | Sri Sampradaya | 25 | Vaishnava Sampradaya | Ramanand | Lakshmi Narayan | Orthodox |
| 2 | Nimbarka | 21 | Vaishnava Sampradaya | Nimbarakacharya | Radha Krishna | Orthodox |
| 3 | Brahma Sampradaya | 20 | Vaishnava Sampradaya | Madhwacharya | Vishnu | Orthodox |
| 4 | Madhawa Gauriya | 24 | Vaishnava Sampradaya | Chaitanya Maha Prabhu | Radha Krishna | Orthodox |
| 5 | Ramanandi | 31 | Vaishnava Sampradaya | Vallabacharya | Radha Krishna | Orthodox |
| 6 | Vallabhachari | 27 | Vaishnava Sampradaya | Ramanand | Sita Rama | Orthodox |
| 7 | Sakhi | 6 | Vaishnava Sampradaya | | Rama Chandra | Orthodox |
| 8 | Udasi | 5 | Vaishnava Sampradaya | Sri Chand | Panchdeo | Orthodox |
| 9 | Swami Narayan | 5 | Vaishnava Sampradaya | Sant Swamy Narayan | All Hindu Deities | Orthodox |
| 10 | Dhami | 3 | Vaishnava Sampradaya | Sant Pran Nath | Bala Krishna | Orthodox |
| 11 | Dharnishwari | 1 | Vaishnava Sampradaya | Baba Dharini Das | Sita Ram | Orthodox |
| 12 | Mahanubhawao | 2 | Vaishnava Sampradaya | Chakradhar | Sri Krishna | Orthodox |
| 13 | Harishchandi | 3 | Vaishnava Sampradaya | | All Vaishnava Deities | Orthodox |
| 14 | Malookdasi | 1 | Vaishnava Sampradaya | Malook Das | Vishnu | Orthodox |
| 15 | Parinami | 4 | Vaishnava Sampradaya | Swamy Pran Nath | Bal Krishna | Orthodox |
| 16 | Rasik | 2 | Vaishnava Sampradaya | | Sita Ram | Orthodox |
| 17 | Parasrami | 1 | Vaishnava Sampradaya | Paras Ram Devacharya | Radha Krishna | Orthodox |
| 18 | Radha Vallabhi | 6 | Vaishnava Sampradaya | Hit Hari Vansh | Sir Krishna | Orthodox |
| 19 | Radha Ramni | 4 | Vaishnava Sampradaya | Baba Harihara Das | Radha | Orthodox |
| 20 | Brahma Kumari | 5 | | Baba Lekh Raj | All Hindu Deities | Reformist |
| 21 | Kabir | 5 | | Kabir Das | Formless God | Reformist |
| 22 | Dadu | 5 | | Dadu Dayal | Formless God | Reformist |
| 23 | Nirmala | 5 | | Baba Veer Singh | Formless God (Adi Gerantha) | Reformist |
| 24 | Bhagat | 1 | | Baba Bhagat Ram | Formless God (Adi Grantha) | Reformist |
| 25 | Baba Lali | 3 | Vaishnava Sampradaya | Sant Baba Lal | Formless God (Ram or Hari) | Reformist |
| 26 | Charandasi | 3 | Vaishnava Sampradaya | Sant Charan Das | All Vaishnava Deities | Reformist |
| 27 | Dariyadasi | 1 | | Dariya Das | Formless God (Satyalok) | Reformist |
| 28 | Nirankari | 4 | | Baba Dayal Das | Formless God | Reformist |
| 29 | Kayam | 1 | | Karuna Sagar | Formless God | Reformist |
| 30 | Radha Soami | 5 | | Baba Shiva Dayal | Formless God (Radha Soami Dham) | Reformist |
| 31 | Dhariya | 5 | | Darya Saheb (A Muslim) | Formless God (Para Brahma or Allah) | Reformist |
| 32 | Gheesa | 4 | | Sant Gheesa Das | Formless God | Reformist |
| 33 | Garib Dasi | 5 | | Sant Garib Das | Formless God | Reformist |
| 34 | Gulab Dasi | 4 | | Baba Gulab Das | Happiness as the goal of life | Reformist |
| 35 | Lal | 3 | Vaishnava Sampradaya | Baba Lal Das (A Muslim) | Formless God (Ram) | Reformist |
| 36 | Nangi | 2 | Vaishnava Sampradaya | Sant Derha Raj | Formless God (Ram) | Reformist |
| 37 | Nirjani | 5 | | Sant Jagan Das | Formless God | Reformist |
| 38 | Nambhari | 5 | | Bhai Ram Singh | Formless God | Reformist |
| 39 | Nirakari | 4 | | Baba Sarju Das | Formless God | Reformist |
| 40 | Paltu Sahabi | 1 | | Sant Paltu Saheb | Formless God | Reformist |
| 41 | Prem Prakashi | 4 | | Baba prem Prakash | Formless God | Reformist |
| 42 | Panap | 3 | | Pramahans Panap Das | Formless God (Hari & Ram) | Reformist |
| 43 | Rai Dasi | 1 | Vaishnava Sampradaya | Ravi Das | All Vaishnava Deities | Reformist |
| 44 | Ram Sanchi | 4 | Vaishnava Sampradaya | Jai Mal Das | Formless God (Ram) | Reformist |
| 45 | Shiva Narayani | 5 | Vaishnava Sampradaya | Shiva Narayan | Formless God (Shiva Narayan) | Reformist |
| 46 | Satta Nami | 1 | Vaishnava Sampradaya | | Formless God | Reformist |
| 47 | Sitarami | 4 | Vaishnava Sampradaya | Baba Ram Chandra | Formless God (Sita Ram) | Reformist |
| 48 | Sadh | 1 | | Sant Beer Bhan | Formless God | Reformist |
| 49 | Saheb | 4 | Vaishnava Sampradaya | Tulasi Das | Ram | Reformist |
| 50 | Suthara | 3 | | Suthara Sab | Formless God (Adi Grantha) | Reformist |
| 51 | Seva | 2 | | Baba Kenhaiya Das | Formless God (Adi Grantha) | Reformist |
| 52 | Bawari | 2 | | | Formless God | Reformist |
| 53 | Dashanami | 60 | Smarta Sampradaya | Shankaracharya | Panchayatana (Vishnu, Shakti, Shiva, Ganapati, Surya) | Orthodox |
| 54 | Kanphata | 60 | Shaiva Sampradaya | Baba Gorak Nath | Shiva | Orthodox |
| 55 | Agori | 10 | Shaiva Sampradaya | Brahma Giri | Shiva | Orthodox |
| 56 | Veerashaiva | 5 | Shaiva Sampradaya | | Shiva | Orthodox |
| 57 | Lingayat | 5 | Shaiva Sampradaya | Basavanna | Shiva | Reformist |
| 58 | Keenarami | 10 | Shaiva Sampradaya | Keena Ram | Shiva | Orthodox |
| 59 | Shivoham | 20 | Shaiva Sampradaya | Akhandanand | Shhiva | Reformist |
| 60 | Karalingi | 5 | Shaiva Sampradaya | | Shiva | Orthodox |
| 61 | Sat Sain | 10 | Shaiva Sampradaya | Baba Sat Sain | Shiva | Reformist |
| 62 | Ghanapatiya | 4 | Ganapatya Sampradaya | | Ganesha | Orthodox |
| 63 | Kapalik | 1 | Shaiva Sampradaya | Kal | Kal Bhairo | Orthodox |
| 64 | Shakta | 4 | Shakta Sampradaya | | Kali, Durga, Bhagavati | Orthodox |
| 65 | Anandamargi | 2 | Others | Prabhath Ranjan Sarkar (alias Anand Murthi) | Happiness as the goal of life | Radical |
| 66 | Muni Samaji | 2 | Others | Shiva Kumar Shastri | OM | Radical |
| 67 | Kumbhi Patia | 2 | Others | Baba Mukund Das | Phallic Worship (Horse) | Radical |
| 68 | Kaumara | 1 | Kaumara Sampradaya | | Skanda or Subramanya or Muruga | Orthodox |
| 69 | Sri Vaishnava | 1 | Vaishnava Sampradaya | Ramanujacharya | Lakshmi Narayana | Orthodox |
| 70 | Parama Vaishanava | 1 | Vaishnava Sampradaya | Madhvacharya | Krishna | Orthodox |